ITIL, the popular IT service management (ITSM) best practice framework, has long promoted the need for better financial stewardship in IT.
The very first version of ITIL included a heavy focus on cost management. Its successor, ITIL v2, had financial management as one of its ten processes. Then ITIL v3/2011 had financial management for IT services.
Now in ITIL 4 not only is service financial management (the successor to ITIL v3's financial management for IT services) one of the 34 management practices (ITIL 4 replaced processes with practices), there's so much more included that relates to IT financial management. Please read on to find out more.
ITIL 4's Service Financial Management Practice
So far, only the ITIL 4 Foundation Edition publication and associated training materials have been released. The more detailed–and advanced –ITIL 4content and exams are due for later in 2019. It's also worth a few words on what the new management practices are:"…a set of organizational resources designed for performing work or accomplishing an objective." And the 34 management practices in ITIL 4 have one of three different origins:
"General management practices have been adopted and adapted for service management from general business management domains.
Service management practices have been developed in service management and ITSM industries.
Technical management practices have been adapted from technology management domains for service management purposes by expanding or shifting their focus from technology solutions to IT services."
Source: AXELOS, "ITIL Foundation: ITIL 4Edition" (2019)
Service financial management is a general management practice (after all, it's based on accounting disciplines). Whereas IT asset management–covered below –is a service management practice.
So, what does the ITIL 4 Foundation Edition include for service financial management?
First, it's worth noting that each of the 34 ITIL 4 management practices only gets circa a page or two of explanation in the Foundation edition, with the detail to come in the more advanced publications.
The key message is:
"The purpose of the service financial management practice is to support the organization's strategies and plans for service management by ensuring that the organization's financial resources and investments are being used effectively."

With it "…responsible for managing the budgeting, costing, accounting, and charging for the activities of an organization…"

Source: AXELOS, "ITIL Foundation: ITIL 4 Edition" (2019)
Thus, ITIL 4 –so far –is telling the same IT financial management, or effective financial stewardship, story as earlier versionsITSM best practice framework. Although there is a call out to how new technologies have affected traditional financial management practices:
"Many technological developments have impacted upon financial management, but the three key innovations are the introduction of a greater number of digital technologies, blockchain, and IT budgets and payment models."
With the latter including the pay-for-use aspect of the cloud delivery model.
But here comes the big ITIL 4 difference, and not only in IT financial management terms, to previous ITILversions…
ITIL 4's Focus on Value Co-Creation
While the service financial management practice might appear nothing new, what is new is ITIL 4's focus on value. Or, to be more specific, its focus on the co-creation of value.
In ITIL 4, the service lifecycle that ITIL 2011 was built around is no more (although it can be recreated using ITIL 4 components) with the ITSM best practice framework now built around a Service Value System and the Service Value Chain within it: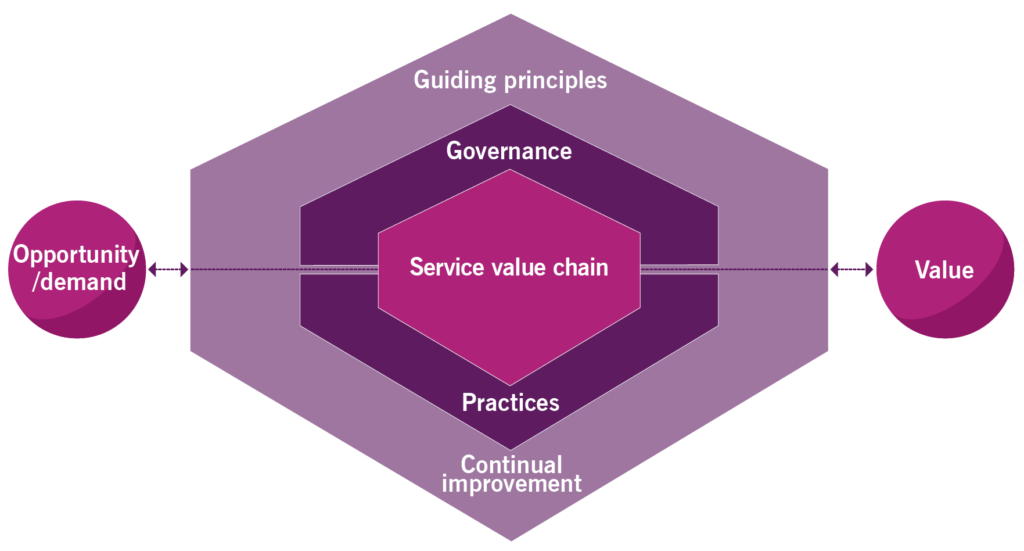 This increased focus on value has to be good for IT financial management (and IT business management too) –with it a further evolution of IT organizations needing to understand their operations and IT services better. Plus, it's difficult to consider the value in isolation of what it costs to create, or co-create, that value.
The Inclusion of IT Asset Management
For whatever reason, IT asset management (ITAM) is often held at arm's length from ITSM. Now ITIL 4 brings it back into the fold. It makes so much sense. Not only given the strong interrelationship between ITSM and ITAM but also the importance of ITAM to better financial stewardship (which the various versions of ITIL have embraced in IT financial management variants).
ITIL 4 states that:
"The purpose of the IT asset management practice is to plan and manage the full lifecycle of all IT assets, to help the organization:
Maximize value
Control costs
Manage risks
Support decision-making about purchase, re-use, retirement, and disposal of assets
Meet regulatory and contractual requirements."
ITIL 4 also calls out software asset management (SAM) as an aspect of ITAM.
20 years ago, ITAM – and SAM in particular – was very much focused on compliance first and better cost management second. Since this time, however, the discipline has seen a rise in the importance of better financial stewardship. In part due to the financial crisis post-2008 and the mantra of "doing more with less" that followed.
What This All Means
We will, of course, have to wait for the more-advanced ITIL 4 publications and training materials to fully understand its increased focus on IT financial management (and IT business management). But so far, so good.
ITIL 4's authors seem to have thought harder about the need for better financial stewardship for IT service providers – whether internal or external – in line with the newer mantra for IT of "better, faster, cheaper."
The opportunity (for IT financial management) created by the inclusion of ITAM in ITIL 4, in particular, shouldn't be overlooked. ITAM has traditionally been hurt by its non-inclusion in ITIL – that, while there are various bodies of ITAM best practice, none has had the global traction that ITIL has had for ITSM.
Albeit that IT financial management has traditionally been one of the lesser-adopted ITIL processes, with even lower adoption rates than ITAM in surveys. For example, the following process-adoption snapshot from the 2018 HDI "Technology Support Practices & Salary Report":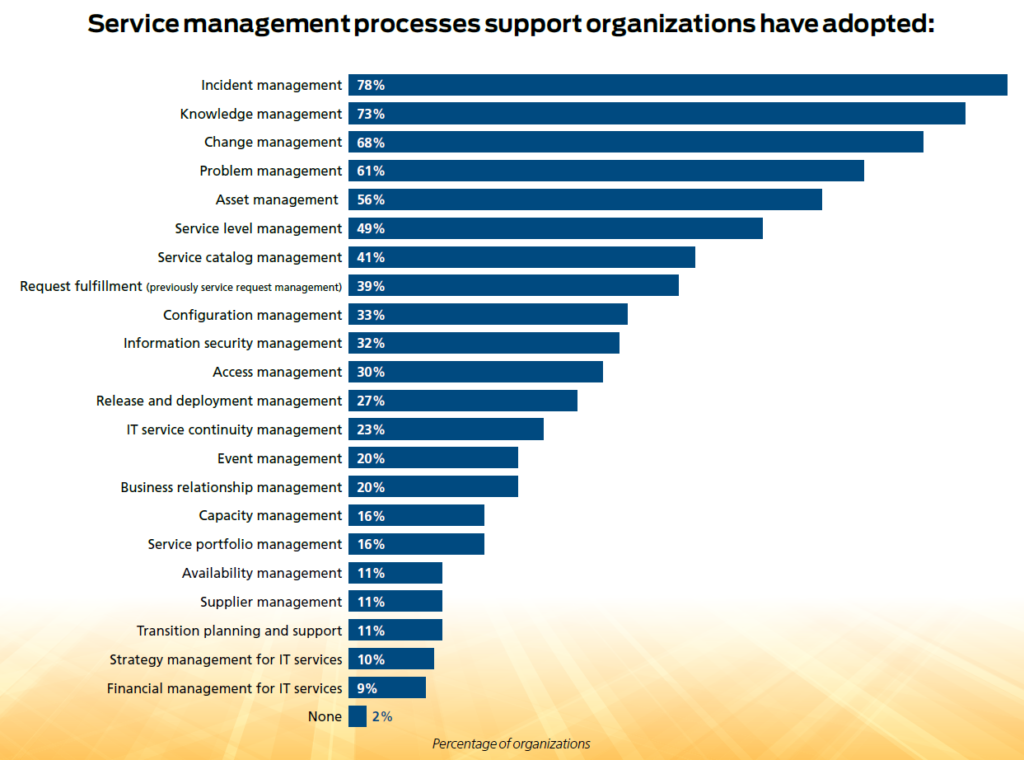 Financial management for IT services sits at the bottom, close to the 10% adoption-level that industry surveys normally have it at. Although, ITAM is at 56% – which is considerably higher than the 20-30% of other industry surveys (and likely caused by ITSM tools having some semblance of ITAM capabilities for hardware).
Hopefully, ITIL 4 – and the focus on value co-creation – will now help to elevate the importance of both IT financial management and ITAM. Especially in terms of better understanding the cost of IT services and providing more effective financial stewardship.
Hopefully, 2020 – post-ITIL-4 "phase two" launch – will see IT financial management finally getting the ITSM recognition, and adoption, it deserves (and needs).
What do you think of ITIL's ongoing guidance on IT financial management and its adoption, including the abovementioned changes for ITIL 4? Do you think it's enough? And what else would you like included? Please let me know in the comments.